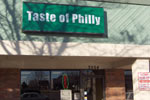 3552 N Academy Blvd
Colorado Springs, CO 80917
719-638-0020
Contact Us
(Email contact is not for delivery orders)
Hours
Mon – Sat: 10:00 AM – 9:30 PM
Sun: 11:00 AM – 9:00 PM
Other Info
Delivery Available!
Menu for both our Dublin Blvd and our Academy Blvd store are here:ACADEMY AND DUBLIN MENU
Cheesesteaks
All Cheesesteaks are available in 12″ and 8″
Original Philly
Grilled Onions & Chopped Steak w/ American Cheese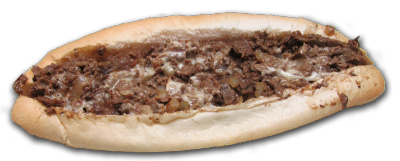 Mushroom Philly
Mushrooms, Grilled Onions & Chopped Steak w/ American Cheese
Pepper Philly
Bell Peppers, Grilled Onions & Chopped Steak w/ American Cheese
Pizza Philly
Pizza Sauce, Grilled Onions & Chopped Steak w/ Provolone Cheese
Hoagie Philly
Lettuce, Tomato, Grilled Onions & Chopped Steak w/ American Cheese
Green Chile Philly
Green Chiles, Grilled Onions & Chopped Steak w/ Cheddar Cheese
The Works
Mushrooms, Bell Peppers, Grilled Onions & Chopped Steak w/ American Cheese
Plain Philly
Chopped Steak w/ American Cheese
Chicken Philly
Grilled Onions & Chopped Chicken w/ American Cheese
Hoagies & Grinders
All Hoagies & Grinders are available in 12″ and 8″
Hoagies = Cold | Grinders = Hot
Available With your Choice of Toppings & Condiments
Veggie
Mushrooms, Onions, Peppers, Lettuce, Tomato & Any Cheese
Cheese
Your Choice of Cheeses
Ham
Baked Ham & Any Cheese
Turkey
Oven Roasted Turkey & Any Cheese
Tuna
Tuna Salad & Any Cheese
Club Hoagie
Ham, Turkey, Swiss Cheese, Bacon, Lettuce, Tomato & Mayo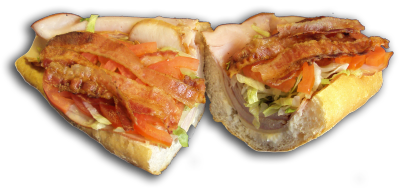 Italian
Baked Ham, Capicola, Genoa Salami & Provolone Cheese
American
Baked Ham, Genoa Salami & Any Cheese
Roast Beef
Roast Beef & Any Cheese
Specialty Sandwiches
Reuben
Corned Beef, Thousand Island & Sauerkraut w/Swiss on Rye
Corned Beef Special
Corned Beef, Thousand Island & Coleslaw w/Swiss on Rye
Club Sandwich
3 Slices of Sourdough w/ Ham, Turkey, Swiss, Bacon, Lettuce, Tomato & Mayo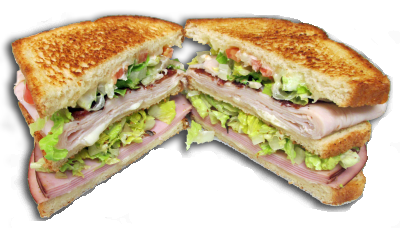 Deli Sandwiches
Choice of Turkey, Ham, Roast Beef, Salami or Tuna & Any Cheese & Any Topping on Sourdough or Rye
Italian Sausage
With Marinara Sauce & Provolone Cheese
Meatball
With Marinara Sauce & Provolone Cheese
Grilled Cheese
Grilled Ham & Cheese
B.L.T.
With Bacon, Lettuce, Tomato & Mayo
Chicken Choices
Served on a 12″ roll with your choice of grilled chicken breast or fried chicken at participating locations
Chicken Cordon Bleu
Ham & Swiss Cheese
Parmesan Chicken
Marinara Sauce, Parmesan & Provolone Cheese
Monterey Chicken
Mushrooms, Ranch Dressing & Swiss Cheese
Chicken Club
Bacon, Lettuce, Tomato, Swiss Cheese & Mayo
Chicken Tender Basket
Basket of 6 Fried Chicken Tenders with Fries
Li'l Phillies
Under 12 Please
Li'l Grilled Cheese
Li'l Grilled Ham & Cheese
Li'l PB & J
Li'l Grilled Chicken Sandwich
With Lettuce, Tomato & Mayo
Li'l Chicken Tenders
Salads
Our Salads Consist of Fresh-Cut Romaine Lettuce, Tomato, Red Onion, Mushroom, Cucumber, Olives & Your Choice of Thousand Island, Bleu Cheese, Italian, Honey Mustard, Caesar or Ranch Dressing. All Salads are Available in Large or Regular Size.
Tossed Salad
With All of the Above
Teriyaki Chicken Salad
With Sliced Chicken Breast in a Teriyaki Glaze
Chicken Caesar Salad
With Sliced Chicekn Glazed in Caesar
Grilled Chicken Salad
With Sliced Grilled Chicken Breast
Cheesesteak Salad
A Great Cheesesteak Salad
Chef Salad
With Domestic Ham, Smoked Turkey & Your Choice of One Cheese
Available for All Sandwiches
Lettuce, Tomato, Onion, Olives, Mustard, Mayo, Oil, Vinegar, Pickles, Jalapeño Peppers, Sweet Peppers & Banana Peppers

Cheeses: American, Provolone, Cheez Whiz, Cheddar & Swiss

Bleu Cheese Dressing, Thousand Island Dressing, Honey Mustard Dressing, Italian Dressing, Caesar Dressing or Ranch Dressing
Wraps
Turkey Wrap
With Smoked Turkey, Cream Cheese, Guacamole, Lettuce & Tomato in a Tomato Basil Tortilla
Italian Wrap
With Domestic Ham, Capicola, Genoa Salami, Provolone, Lettuce, Tomato, Onion, Oil & Oregano in a Tomato Basil Tortilla
Veggie Wrap
With Cream Cheese, Guacamole, Lettuce, Tomato & Cucumber in a Tomato Basil Tortilla
Chicken Caesar Wrap
With Grilled Chicken Breast, Romaine, Tomato, Olive, Onion & Caesar Dressing in a Tomato Basil Tortilla
Smoked Salmon Wrap
With Honey Smoked Salmon, Lettuce, Tomato, Onion, Cucumber, Cream Cheese, Lemon Juice, and Cilantro in a Tomato Basil Tortilla
Sides
Chips
Tastykake
Coleslaw
Potato Salad
Dinner Salad
Fried Mushrooms
Onion Rings
French Fries
Cheese Fries
Beverages
We offer Coke, Diet Coke, Sprite, Mr. Pibb, Root Beer, Orange Soda, Iced Tea
32 oz, 20 oz Fountain
12 oz can, 6 pack of 12 oz cans, 12 pack of 12 oz cans
Boylan bottle
Black Cherry, Cream Soda, Birch Beer, Root Beer
Powerade